The Jardin Majorelle, also known as the Majorelle Garden. It's the subtropical garden situated at the central point of Marrakech Gueliz. It is amongst the stunning and most delightful spots in Marrakech that attract the attention of most tourists. You need to pass through Marrakech medina so that you can access this botanical garden. Marrakech's Medina is one of the most famous destinations because of its acres of palms and olive groves.
Jacques Majorelle
The French expatriate artist, by the name; Jacques Majorelle, is the designer of this botanical garden. He designed this meticulously botanical garden in the year 1924. Also, you need to note that Jacques was the son of the most famous Art Nouveau furniture designer. By the name Louis Majorelle. Jacques attended art school in the year 1901 in Nancy in an institution identified as Ecole des Beaux-Arts.
Majorelle color
After the studies, Jacques went back to Marrakech in the year 1919 to recover from heart problems. It is during this recovery period that he built this botanical garden Jardin Majorelle. Jacques completed the construction using a unique color of blue, and this covered a large percentage of the Jardin Majorelle. It is after this exercise that he named the garden as Majorelle Blue.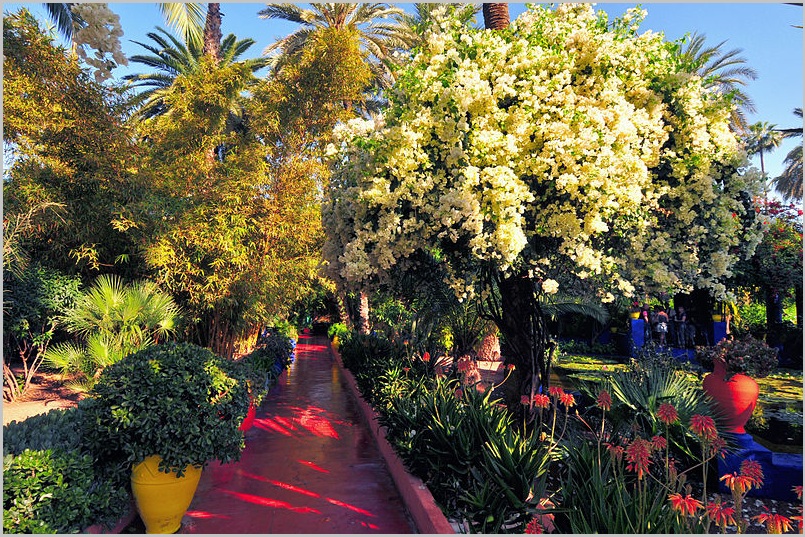 Jacques Majorelle got involved in a car accident in the year 1962. An incident that forced him to return to France in the same year. He later died in the same year because of the severe complications he suffered from the accident injuries. Yes, Morocco is no longer under the control of the French protectorate. But this botanical Jardin Majorelle remains to be amongst the most loved tourist attraction sites in Morocco.
Famous Garden
The Jardin Majorelle Marrakech became even more famous after Yves Saint Laurent features it in the Chelsea Flower Show. That took place in London in the year 1997. Ever since then, many people have made several trips to Morocco to see this meticulously botanical garden. Yves Saint Laurent was the care-taker and former owner of the Jardin Majorelle.
The Majorelle Garden is now even more attractive than before. After its latest renovation, it now features unique gift items, a wealth of books, and the most fashionable Jalabas. Also, this botanical garden now features new grass, cactus, trees, and plants. Thus, this botanical garden remains to be a treasure trove of Morocco.
Majorelle, together with its buildings, features a unique color of cobalt blue. The same shade featured in the botanical Jardin Majorelle Marrakech. The size of this garden measures twelve acres. Also, the garden radiates with concrete paths, rows featuring bright orange nasturtiums, multi-colored bougainvillea, bold pergolas, and pink geraniums. Other than this, the garden features a variety of species of birds like house bunting, turtle doves, and bulbuls.
Social Share