The Bahia Palace is amongst the top-rated interesting historical sites in Marrakech. Si Moussa built this new site between the years 1866 and 1867. It is a sprawling palace that stands in a two acres land amid the Marrakech medina.
The Bahia Palace Marrakech
The Bahia Palace features 150 rooms and a harem section that's close to the Court of Honor. This destination became so popular during the French Protectorate era when it hosted the Resident-General.  Currently, the Bahia Palace remains to be a must-see historical museum in Marrakech. The public can access it at any day. In the past, the Bahia Palace used to host events such as the Marrakech Biennale.
Si Moussa
Initially, Si Moussa built this historical site for personal use. Si Moussa rose to power in the year 1894. During this year, he gained full control over the state and ruled it till his death, which happened in the year 1900.
The brilliance of this palace was enhanced during the reign of Bou Ahmed. He improved the look of this historical site by adding lush gardens. These lush gardens are the small private gardens, where the visitors pass through as they enter this palace area. Other than this, they decorated the rooms in a genuinely Moroccan style. Here, they used cedarwood and carved stucco to furnish all the palace's rooms.
With the Bahia Palace, you'll come across council rooms. The council rooms feature a large Riad, impressive Zelling fireplaces, painted cedar work, and flooring. Other than this, Bou Ahmed, his several concubines, and all his four wives used to stay in this palace.
While in this palace, the tourists can visit the splashing fountains that host living apartments and quarters. Also, they can have a great view of the traditional style gardens, which features a variety of orange trees.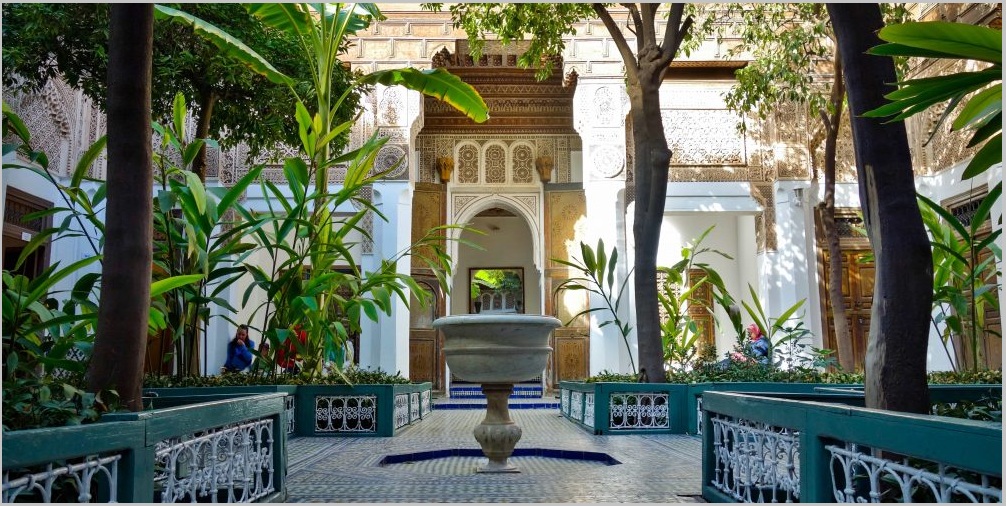 Design of Palais Bahia Marrakesh
Most people keep visiting Palais Bahia Marrakesh because of its beautifully colorful windows and Zellig-tiled floors and fireplaces. The features play an essential role in creating distinctive patterns during the afternoon sun. Also, these features are the reason for the beautifully carved and painted cedar wood.
The Bahia Palace is at a 15-minute walking distance from the south of Djemma el-Fna. Djemma el-Fna is the most popular marketplace situated at the center of Marrakech medina. You can access this palace at any time and all the days of the week, starting from 8 am until midnight. Also, you need to note that you don't have to pay anything to enter this palace.
Finally, don't expect this palace to look like it was several years back. It does not contain anything inside. However, take your time at its awesome tiles and woodwork and then create the right image of its original look.
Social Share